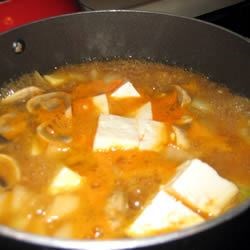 "This soup is tasty, delicious, easy to make and full of vegetables! This is a very simple Korean soup eaten with rice and other side dishes. Includes tofu, green squash, mushrooms and onions. True Korean recipe! Garnish with sliced green onions."
Ingredients:
* 3 1/2 cups water
* 3 tablespoons denjang (Korean bean curd paste)
* 1 tablespoon garlic paste
* 1/2 tablespoon dashi granules
* 1/2 tablespoon gochu jang (Korean hot pepper paste)
* 1 zucchini, cubed
* 1 potato, peeled and cubed
* 1/4 pound fresh mushrooms, quartered
* 1 onion, chopped
* 1 (12 ounce) package soft tofu, sliced
Direction:
1. In a large saucepan over medium heat, combine water, denjang, garlic paste, dashi and gochu jang. Bring to a boil and let boil 2 minutes. Stir in zucchini, potato, mushrooms and onions and let boil 5 to 7 minutes more. Stir in tofu and cook until tofu has expanded and vegetables are tender.