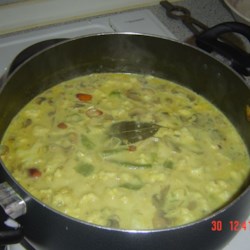 "Vietnamese style curry powder can be found in Asian markets - especially in cities that have a large Vietnamese population. If you can't find it, use Madras curry powder. This spicy soup can be made into a thick stew by reducing the vegetable stock and water by half. Serve with rice and French bread."
Ingredients:
2 tablespoons vegetable oil
1 onion, coarsely chopped
2 shallots, thinly sliced
2 cloves garlic, chopped
2 inch piece fresh ginger root, thinly sliced
1 stalk lemon grass, cut into 2 inch pieces
4 tablespoons curry powder
1 green bell pepper, coarsely chopped
2 carrots, peeled and diagonally sliced
8 mushrooms, sliced
1 pound fried tofu, cut into bite-size pieces
4 cups vegetable broth
4 cups water
2 tablespoons vegetarian fish sauce (optional)
2 teaspoons red pepper flakes
1 bay leaf
2 kaffir lime leaves
8 small potatoes, quartered
1 (14 ounce) can coconut milk
2 cups fresh bean sprouts, for garnish
8 sprigs fresh chopped cilantro, for garnish
Direction:
1. Heat oil in a large stock pot over medium heat. Saute onion and shallots until soft and translucent. Stir in garlic, ginger, lemon grass and curry powder. Cook for about 5 minutes, to release the flavors of the curry. Stir in green pepper, carrots, mushrooms and tofu. Pour in vegetable stock and water. Season with fish sauce and red pepper flakes. Bring to a boil, then stir in potatoes and coconut milk. When soup returns to a boil, reduce heat and simmer for 40 to 60 minutes, or until potatoes are tender. Garnish each bowl with a pile of bean sprouts and cilantro.